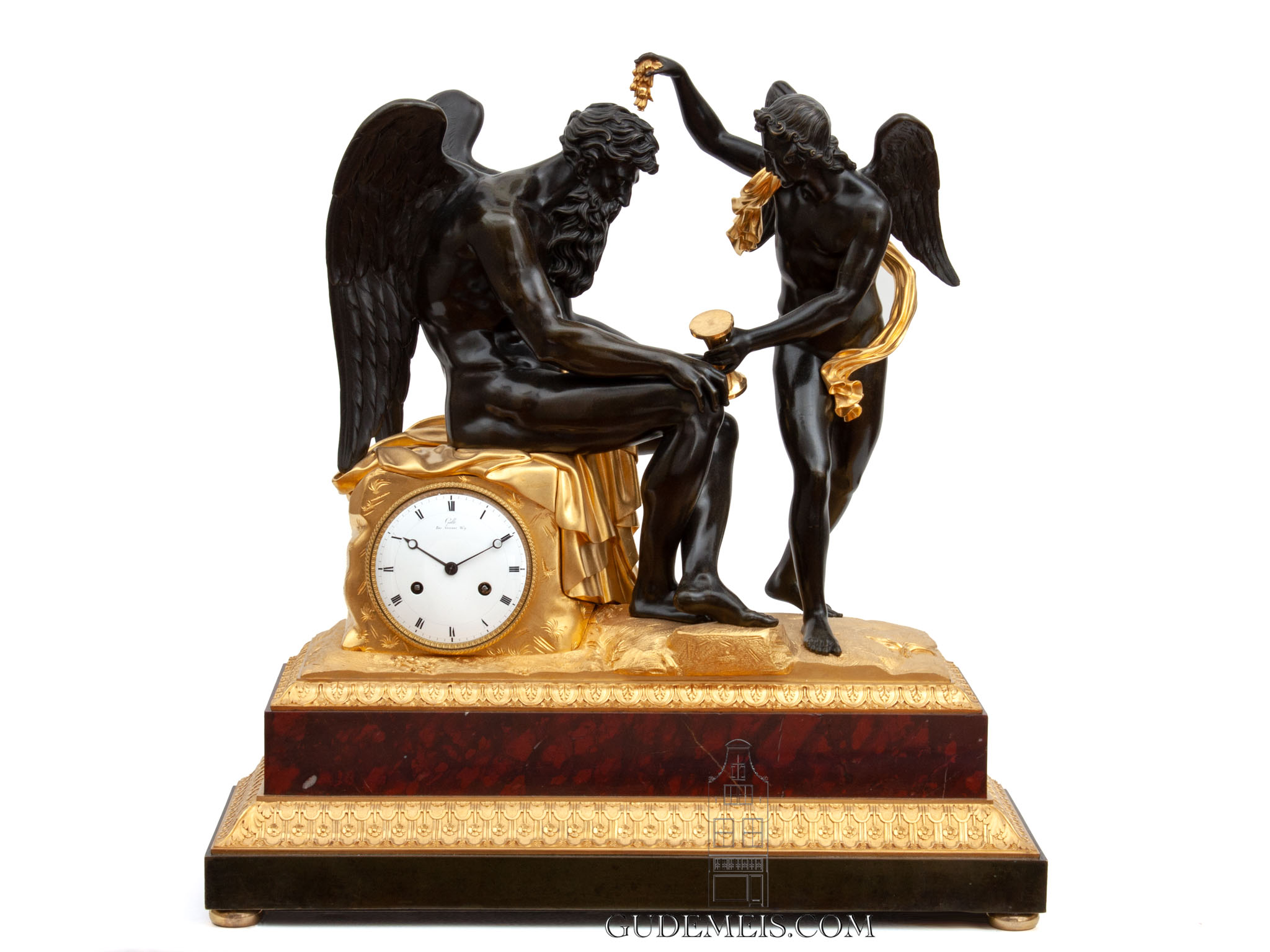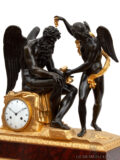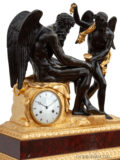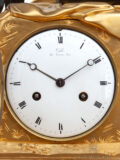 An imposing French Empire ormolu and bronze sculptural mantel clock, Claude Galle, circa 1810.
Description
sculptural mantel clock
The way the maker has caught the natural pose and motion is striking at first glance. Although the young male stands still, he almost seems to move. But more up close the wonderful quality of the bronze work becomes apparent. Both aspects of this sculptural mantel clock are characteristic for the famous maker Claude Galle.
The theme that is depicted on this sculptural mantel clock is 'Amor stealing Time'. Time is of course personified by Chronos, the older bearded man with wings. This God of Time is being lulled to sleep by a young elegant Amor by dazing him with poppy bulbs. While doing this he takes the hour glass from the older man's hands. This theme is more commonly depicted by Amor covering time. By taking the hour glass from Chronos the elapsing of the time is stopped. On the one hand it could refer to the fact that 'True love is eternal'. But it could also refer to the fact that time eventually destroys everything and in that way is an enemy of love.
Claude Galle
Claude Galle who is regarded as one of the most imporatant bronziers and fondeur-ciseleurs of the late Louis XVI and Empire periods, was born at Villepreux near Versailles in 1759. He apprenticed with Pierre Foy in Paris and married his daughter in 1784. He became maître-fondeur in 1786 and after the death of his father-in-law he continued the workshop in 1788. He worked together with many great artisans like Pierre-Philippe Thomire and was responsible for many bronze and ormolu objects d'art. Galle moved to Quai de la Monnaie (later Quai de l'Unité), and then in 1805 to 60 Rue Vivienne. He died in 1815. He helped furnishing many famous palaces and many museums have pieces of him in their collections.
The dial
The 11.5-cm enamel dial has Roman numerals and is signed under XII Galle Rue Vivienne No 9. The blued steel hands are of the Breguet type.
The movement
The movement is driven by two spring barrels and has a duration of at least eight days. It is regulated by anchor escapement in combination with a silk suspended pendulum. The clock strikes the hours and half hours on a bell by means of a countwheel. The movement has flat bottomed plates which is more common in this period.
Ormolu and patinated bronze
The movement is fitted in a ormolu case which resembles a natural surface with rocks and plants. On top of it there is a draped cloth on which the sleeping patinated bronze figure of Chronos is seated. In front of him is the turned figure of Amor taking the hour glass. The whole is mounted on a red marble base with finely cast and chiseled ormolu mouldings. The patinated bronze plinth is raised on gilt bronze turned feet.
Sizes
(Height) 62 cm (Width) 61 cm (Depth) 24 cm
(Height) 24.4 in (Width) 24 in (Depth) 9.4 in
Price
€ 42.000
Signature
Claude Galle, Rue Vivienne No. 7 Paris