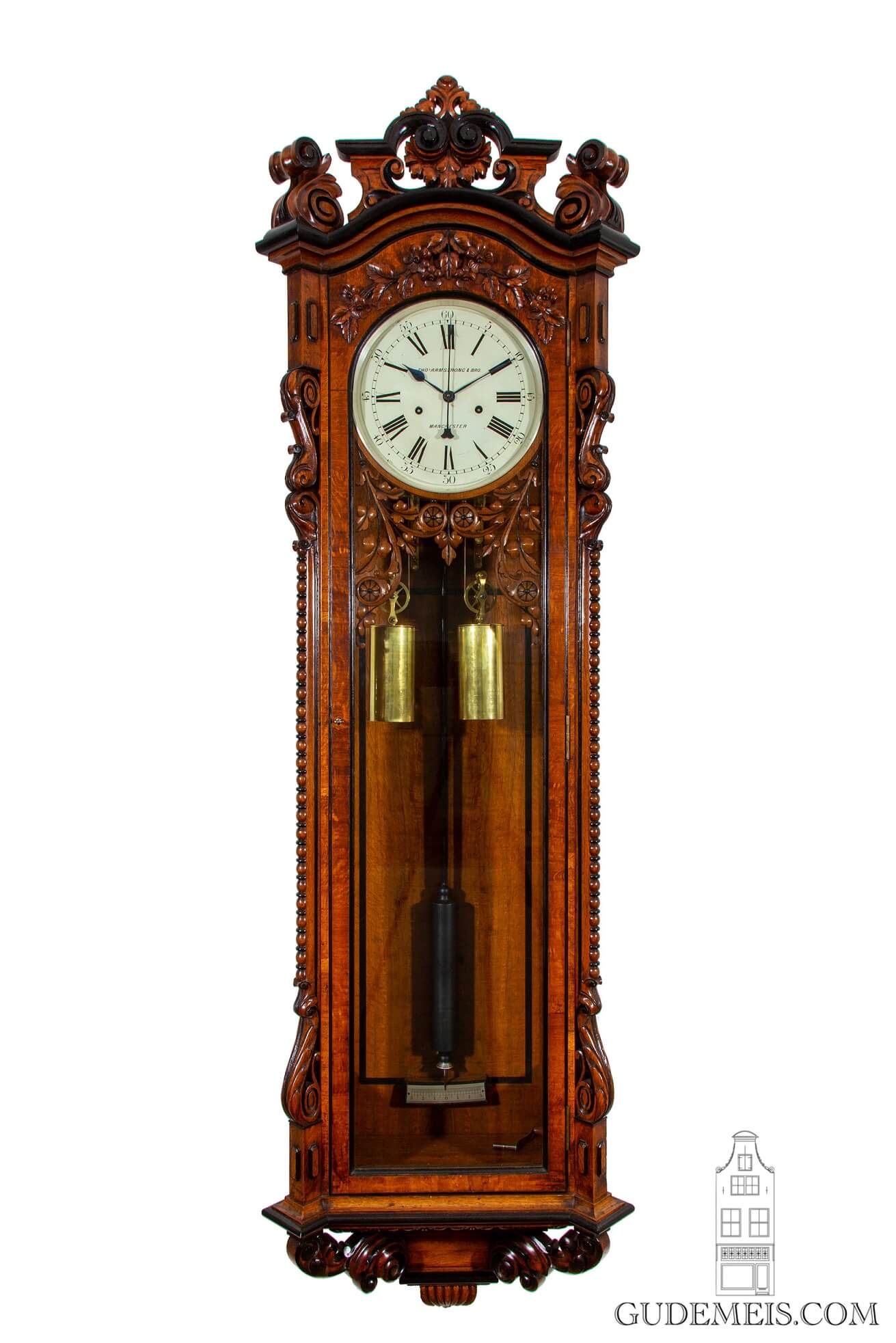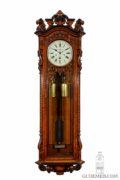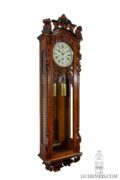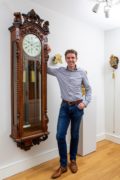 watch the clock run and strike
An impressive English oak longcase regulator, Armstrong Manchester circa 1880
Description
Regulator
When seeing this clock in the flesh, the first thing that is evident is its sheer size and ornamental carved oak case. One could think that most of the attention of the makers was given to the case, but when looking at the movement that just doesn't seem to be true. In fact, it has a deadbeat escapement, which is used for quality timekeepers because of its accuracy. Besides that, it has a pendulum with a lacquered wooden rod and a lacquered zinc cylindrical bob typical of mid-nineteenth century precision clocks. In this way, the quality of the case is matched by the quality of the movement. Usually the cases of precision clocks are unadorned and solely functional. But the beautiful decorative case of this regulator most probably indicates that this clock was made for public use, such as a bank or office building.
Armstrong Manchester
The 28.5-cm Japanned dial has Roman chapters and Arabic numerals for the five minute indication. The centre is signed Tho Armstrong & Bro Manchester. The spade hands and counter weighted sweep seconds are made of blued steel.
The movement
The well built brass movement is driven by two weights and has a duration of a week. It is mounted on two brass 'gothic' brackets mounted on the back board. The going train has Graham escapement and Harrison's maintaining power. The pendulum with black lacquered wood rod and zinc bob is separately roller suspended from the back board of the case. The movement has half hour striking on a gong by means of rack striking. It is quite unusual for an English clock to strike the half hours with a single strike.
The case
The imposing case is made of three quarter cut oak which causes a beautiful glimmering pattern in the grain to be shown. The honey colored wood is enlivened with ebonized accents. The moulded arched top is surmounted by a carved pierced cresting flanked by two scrolls. Above and below the dial there is carved oak leaf ornament. The rounded mouldings on the canted corners are terminated by carved scrolls. The heavy moulded base terminates in two ogee shaped brackets.
Clockmakers from Manchester
Thomas Armstrong was born in 1829 and the son of Joseph Armstrong clockmaker in Manchester. He worked with his father and took over the business in 1873. Together with his brother he also had a shop in Liverpool.
Sizes
(Height) 208 cm (Width) 59 cm (Depth) 31 cm
(Height) 81.9 (6ft 8 inch) in (Width) 23.2 in (Depth) 12.2 in
Price
€ 16.000
Signature
Thomas Armstrong & Brother Manchester