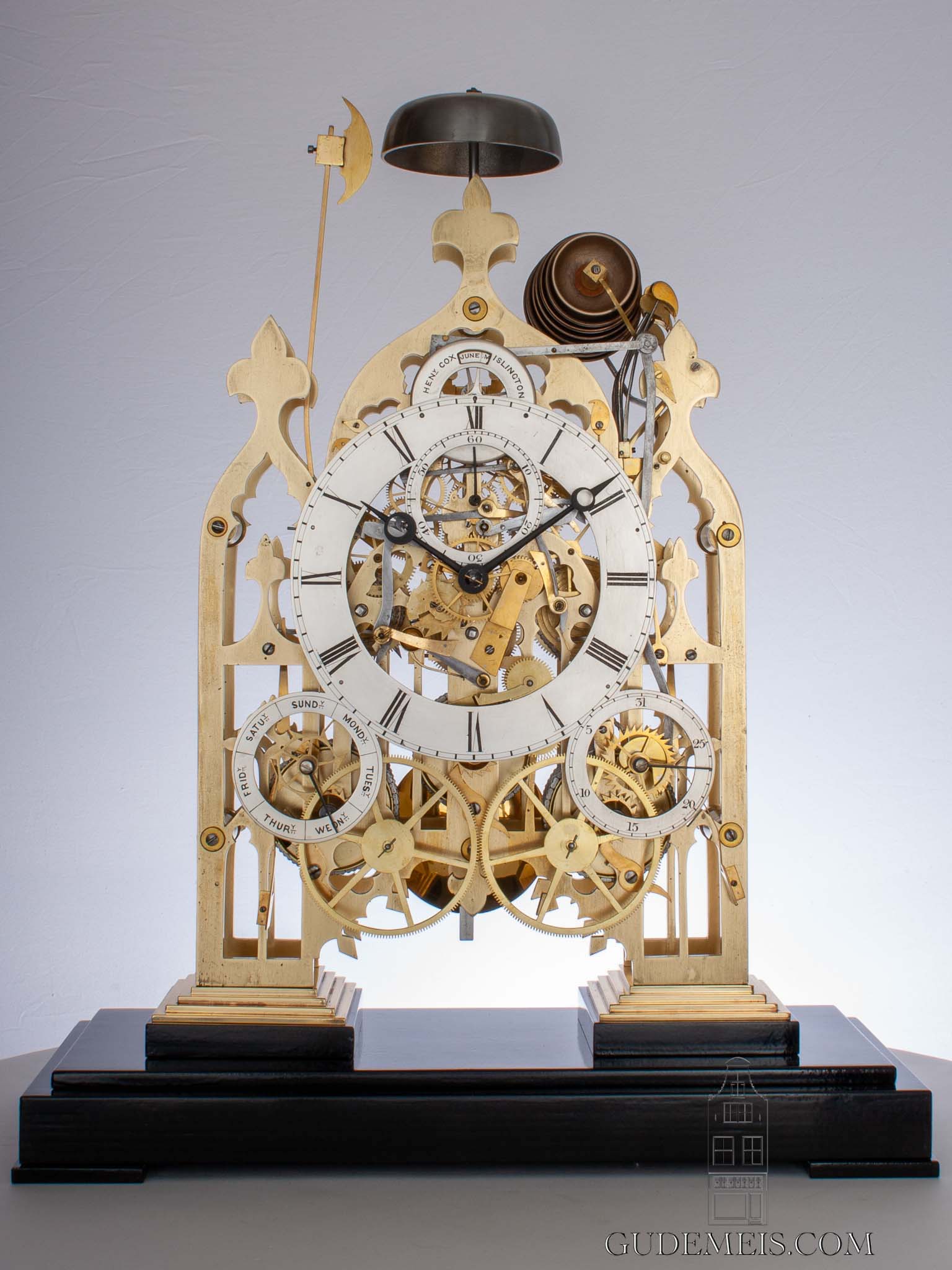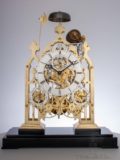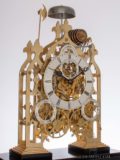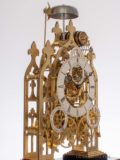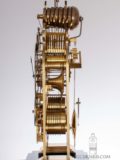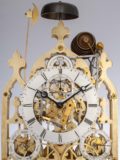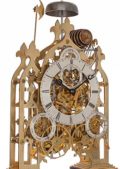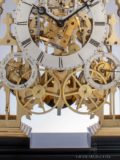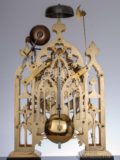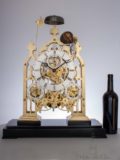 A large English brass quarter chiming skeleton clock with calendar, H. Cox Islington, circa 1850.
Description
The story
There are several features to this clock which make it unusual. First there are the large dimensions. Furthermore this clock contrary to most English skeleton clocks has striking work. And this striking is not just hours only, it is quarter chiming on eight bells. This implies that a melody is played each quarter. The melody getting longer with each subsequent quarter. Finally there is the full calendar indicating the date, day of the week and month which is hardly ever seen on this kind of skeleton clocks. With the visible wheels skeleton clocks are interesting and amazing to look at. Which in this case is strengthened by the complexity of the calendar and quarter chiming.
The chapter rings
The 20-cm engraved silvered chapter ring has Roman numerals. Below XII there is a subsidiary for seconds. On the left below there is a subsidiary for the days of the week and on the right below there is the subsidiary for the date indication. Above the main chapter ring there is a signature plate inscribed HEN.y COX ISLINGTON with an aperture for the month indication. The blued steel hands are of the Breguet type.
The movement
The fully exposed movement has a duration of eight days and is driven by three spring barrels with fusee and chain. It is regulated by Graham's deadbeat escapement in combination with a heavy pendulum. The clock has quarter chiming with eight hammers on eight bells. After having chimed the fourth quarter it strikes the hours by means of rack striking on a large bell.
The frame
The frame consists of thick brass plates joined by heavy well turned pillars. It is shaped as a Gothic church with its trefoils, long arched window shaped piercings and shaped finials. The whole is placed on stepped brass basements on an ebonized rectangular plinth on flat feet.
Sizes
(Height) 60 cm (clock) (Width) 48.5 cm (Depth) 22 cm
(Height) 23.6 in (clock) (Width) 19.1 in (Depth) 8.6 cm
Price
Sold
Signature
Henry Cox Islington