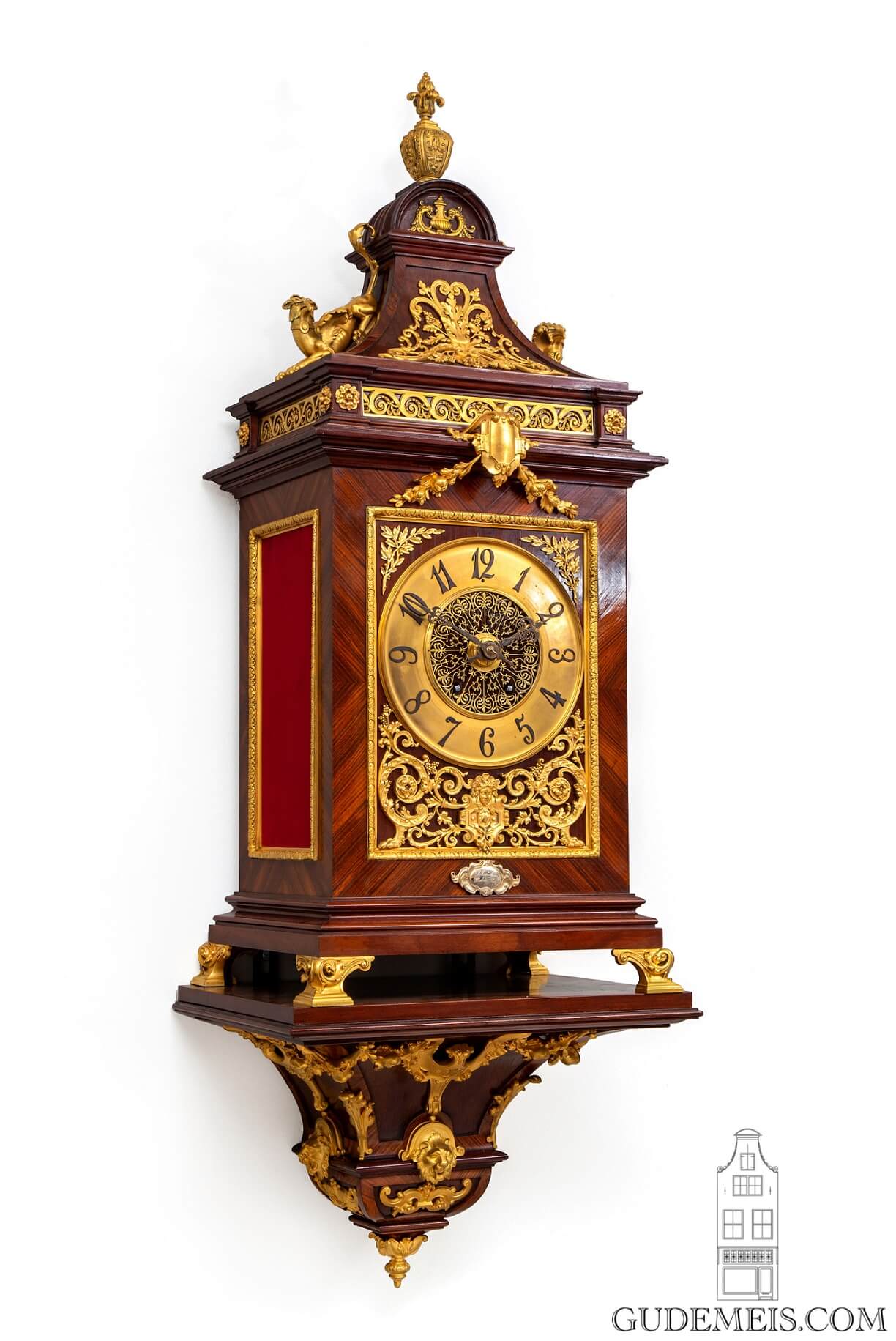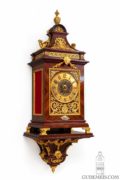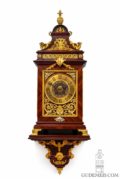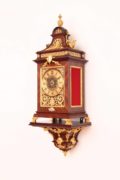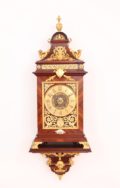 A rare French gilt bronze mounted kingswood bracket clock by Planchon, circa 1890
Description
The dial
The 22-cm gilt chapter ring has applied blued steel Arabic numerals around a finely pierced gilt centre. The back of the dial is signed Planchon. The beautiful and unusual shaped hands are made made of patinated brass. The whole is placed in a rectangular and engraved mask with oak leaf in the upper corners. Below the chapter ring there is a finely cast 'grottesque' ornament having a central masqueron.
The movement
The rectangular movement is driven by two spring barrels and has a duration of eight days. It is being regulated by a Brocot anchor escapement in combination with a pendulum. The clock has half hour rack striking on a bell.
The case
The kingswood case has a concave sided cresting with an arched moulded top surmounted by an gilt bronze ornamental urn. On the sides of the cresting there are well cast and chiseled gilt griffins and a foliate ornament to the front. Below the gilt bronze mounted freeze there is a cartouche with trailing garlands. Centrally below the chapter ring is another cartouche signed Planchon Palais Royal. The sides have rectangular panels with red fabric. The heavy moulded plinth is placed on beautifully shaped feet. The clock is placed on a matching wall bracket emphasizing the grandeur. The crisp cast gilt bronze mounts are of the highest quality and are testament of the attention to detail to which this clock was made.
Planchon
Matthieu Planchon was the son of Edouard Planchon, a clockmaker from Bourges that was also his teacher. In 1862 he toured France working for other clockmakers. In 1865 he worked for the famous Robert Houdin and in 1868 he worked for Philippe. In 1870 he started working on his own at the Quai des Morfondus. He is there after registered working at Rue Vieille du Temple in 1880 and at the Galerie Montpensier bij het Palais Royal in 1890. He is inspired by Viollet Le Duc and worked in the Neo Gothic style then popular. Later he devised his own style named 'style Planchon' which is an eclectic combination of the Louis XIV, Louis XV and Louis VI styles combining them into something new. This renown maker with his own style published several books on the history of clocks and watches. He also wrote the retrospective on a large clock exhibition in 1900. (lit. Tardy, Dictionnaire des Horlogers Français pp. 525)
Sizes
(Height) 122 cm (including bracket) (Width) 42 cm (Depth) 32 cm
(Height) 48 in (including bracket) (Width) 16.5 in (Depth) 12.6 in
Price
€ 14.000
Signature
Planchon