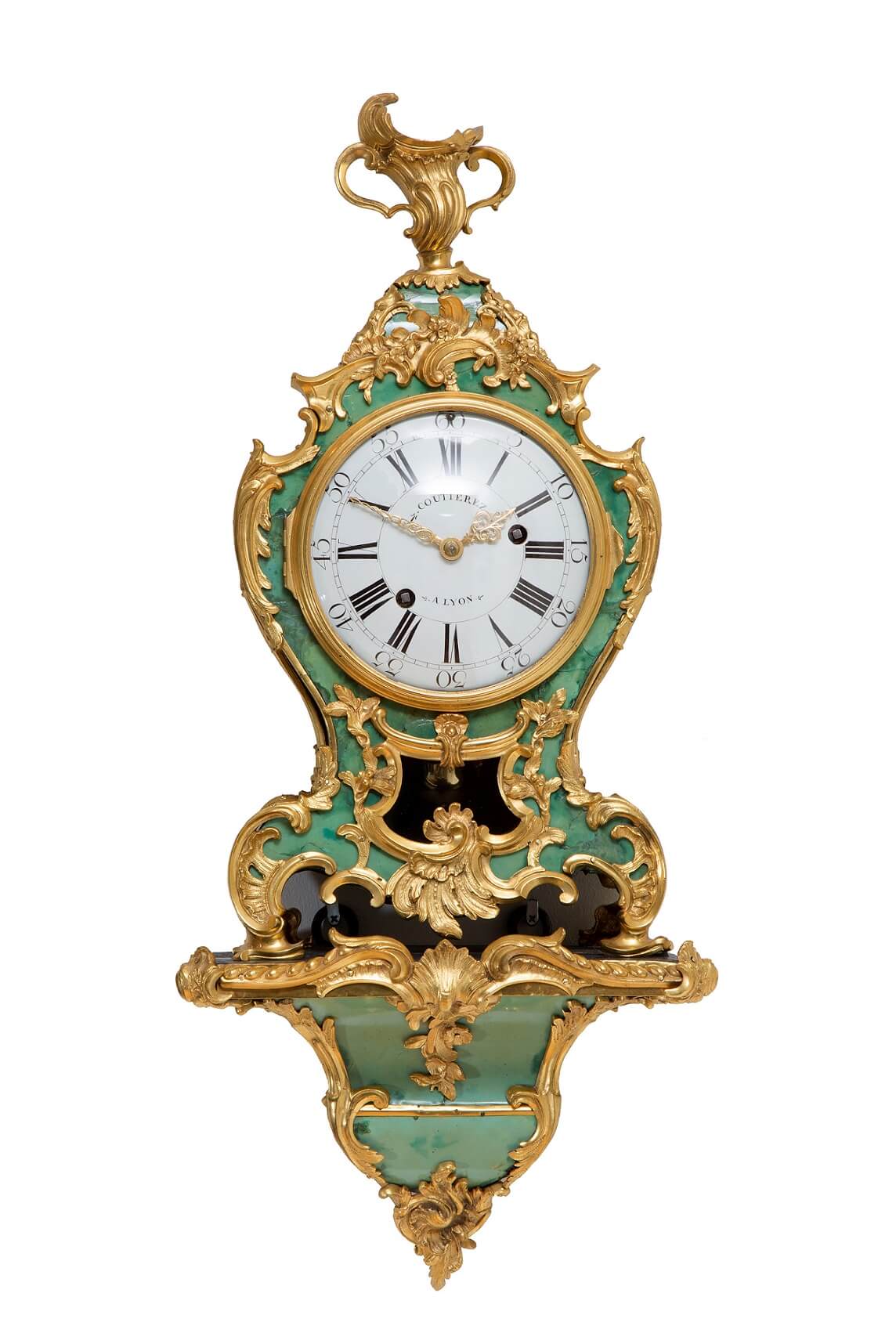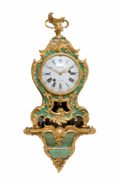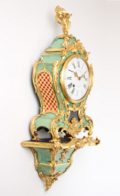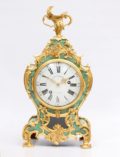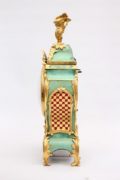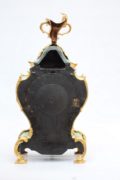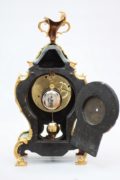 A small French Louis XV corne verte bracket clock by Coutterez, circa 1745
Description
Corne verte
Small bracket clocks often were made for the bedroom and lack striking work. It is a nice feature that this clock of small dimensions does strike every half hour. The strong lines of the 'waisted' case and bracket, together with the foliate bronzes make it a typical piece of the rococo of the Louis XV period. 'Corne verte' translates into 'green horn' which is exactly what it is. Thin sheets of 'bull horn' are veneered onto a green ground. This results in a stunning combination of green and gold which fitted well in the colourful Louis XV interiors.
Coutterez A Lyon
The 16-cm enamel dial has Roman numerals and is signed in the centre Coutterez A Lyon. The beautiful pierced and engraved Rococo hands are made of gilt brass. A nice early feature is that the winding holes are asymmetrical which is an early feature.
identically signed
The movement is driven by two spring barrels and has a duration of at least eight days. The backplate is identically signed Coutterez A Lyon. It is regulated by a tic-tac escapement in combination with a silk suspended pendulum. The clock strikes the hours and half hours by means of a numbered countwheel, another early feature.
Bracket clock
Since these clocks are placed on a bracket the type is usually referred to as bracket clock. In France the type is also often referred to as cartel. As described above the case is veneered with a sheet of horn on a green ground. It is surmounted by a decorative gilt bronze urn. The case is throughout adourned with further rococo gilt bronze mounts. The whole is raised on rococo feet and placed on a matching ogee shaped wall bracket.
Sizes
(Height) 70.5 cm total (Width) 29.5 cm (Depth) 17.5 cm
(Height) 27.8 in total (Width) 11.6 in (Depth) 6.9 in
Price
€ 19.000
Signature
Coutterez A Lyon