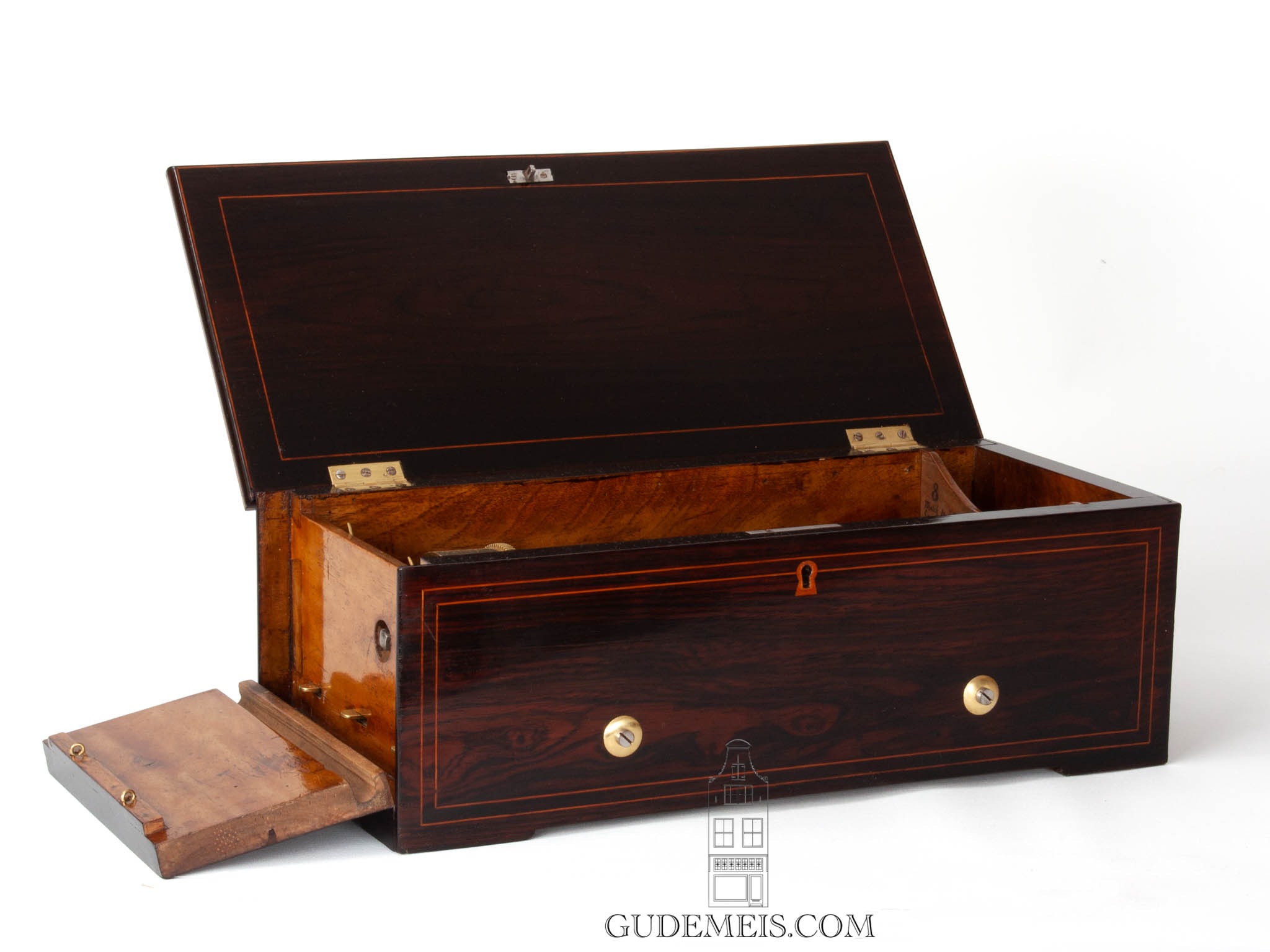 An early Swiss two-per-turn cylinder music box, Ducommun Girod, circa 1840.
Description
The mechanism
The brass mechanism is driven by a spring barrel with key winding. The frame is numbered 16627 and signed DUCOMMUN GIROD. The cylinder has a diameter of 8 centimeters and is 23.5 cm wide. Each revolution plays two melodies. The cylinder can shift four positions which means that the music box had eight airs. There are three operating levers. One for the changing of repeating of the melody. One for the starting and stopping the melody (at the end of the melody). And one for direct start and stopping of the melody.
The case
The rectangular case is veneered with well figured rosewood. It has string inlay to the front panel and foliate marquetry inlay to the lid.
The aria's
On the removable panel of the key compartment the melodies are written with ink, but are partly rubbed.
8 Airs
Motif de L'Ouverture de l'opera Zanetta, Aubert
Les Diables en Vacances quadrille(?)
Paulinen Walzer (?? Labitzky ??)
La Cachucha (???)
Marche du Sacre
'O mon Pays!' de l'op. La Reine d'un Jour.
Kronstadt walse Schallen
Galop dal St Albert
Sizes
(Height) 15.5 cm (Width) 43.5 cm (Depth) 20.5 cm
(Height) 6.1 in (Width) 17.1 in (Depth) 8.1 in
Price
Sold
Signature
Ducommun Girod